Caregivers for Seniors, In-Home Health Care, Home Care Assistance, and In-Home Care Services in Bethel Park, PA

As you get older, visiting the doctor can become a nuisance. If you are a senior dealing with a medical condition or disability, it may be easier for you to take advantage of in-home care services in Bethel Park and throughout Pittsburgh, PA, and the surrounding areas. These services help you accomplish daily tasks and provide valuable companionship.
Independence Care is a full-service home care assistance company that provides caregivers for seniors. We alleviate the stress of family members who need to care for their loved ones every day. Our caregivers come from nursing backgrounds and have over a decade of experience working with seniors in the Bethel Park community.
Home Care Assistance by Caregivers for Seniors in Bethel Park, PA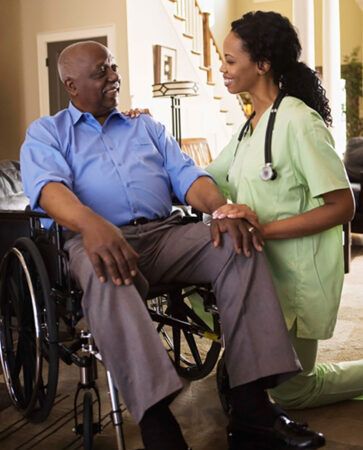 There are multiple benefits of in-home health care. Firstly, home care assistance professionals can ease your mind during the day. You won't have to worry about your loved ones harming themselves while you're at work. In-home health care workers will make sure your relative is taking their medication and relaxing for the day.
Caregivers for seniors also help your loved ones keep their dignity. It's hard for anyone to admit they need help with simple tasks like cleaning and bathing. A caregiver develops a personal relationship with your relative, making it easier for your loved one to accept elder care.
Of course, our team has various skills that allow your relative to get comprehensive in-home care services from the comfort of their home. We can handle the most complex needs so that your loved one stays on top of their health. We also provide meal preparation services.
The seniors we assist often cannot handle their own dietary needs during the day. We take note of any dietary requirements and craft meals around them to meet your relative's nutritional needs.
In-Home Care Services in Bethel Park, Pennsylvania
Bethel Park, PA, is a beautiful oasis in western Pennsylvania. It has a bustling downtown area while maintaining a small-town vibe. Just eight miles from downtown Pittsburgh, this steel city borough is safe and enjoyable for its residents. It also features many popular Pittsburgh hangouts such as South Hills Village and the South Park Wave Pool.
If you or someone you know requires constant assistance, contact one of our caregivers for seniors. Call us at 888-538-5081 to inform us what type of in-home care services you or your family member needs, and we'll be glad to discuss your options.